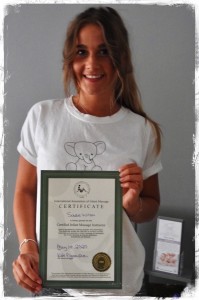 Sadie Wilson is the Founder of A Tiny Touch baby massage, she is a fully certified infant massage instructor (CIMI) trained by the international Association of Infant Massage.
"Being around babies and children has always warmed my heart along with the passion to help support and educate others whether adult or child, and having the chance to combine both of my passions to find a career in infant massage is what inspires me everyday"
– Sadie Wilson, Founder of A Tiny Touch

Our baby massage classes are from birth to 12 months and consist of a x5-week course performed on a weekly basis.  This enables you the chance to gradually build up your knowledge and practice of the massage technique, and also allows your baby time to get familiar with this new experience.
By the end of our 5 week course you'll be able to perform a full body massage on your baby, whilst embracing that quality time.
During the classes its very important that the primary caregiver performs these massage strokes on their own child, therefore throughout the classes you will learn by watching the instructor demonstrate the baby massage techniques on a specialised baby massage doll, whilst you practice alongside with your own baby.

Don't worry if your baby requires sleep, feeding or even just a loving cuddle during our class(es), this is completely natural and fully acceptable! Each week, we will progressively recap all the strokes learnt thus far; so you won't miss out on any learning, plus you can practice at home in-between each class with the aid of educational materials provided.
Often babies can take time to adapt to the new experience of baby massage, especially if they were born quite prematurely, however they will gradually learn to feel comfortable with the experience and grow to enjoy the feeling of relaxation from your nurturing touch along with one-to-one quality time with you.
Our classes range from private one to one sessions in the comfort of your own home, to private group classes with friends/family at your/their home or our public group classes at one of our venues, which can be a nice way to meet other new parents.